Veggie Stovies with baby spinach
Veggie Stovies with baby spinach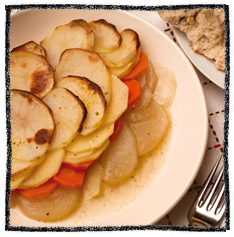 Quick info
Recipe difficulty

- medium

Preparation time

- 15 minutes

Cooking time

- 25 minutes

Serves

- 4

Dietary

- Vegetarian Gluten free

Allergens

- Milk
Enjoy
Stovies are a traditional Scottish dish making use of staple potatoes and root vegetables, along with left over meat, such as beef, lamb or chicken
This version uses potatoes and carrot, flavoured with onions and stock. But any root veg in season can be added, along with tinned lentils or soya mince to bulk it out further.
Ingredients
900g Red potatoes, peeled and sliced
1 medium onion, sliced
1 vegetable stock cube
1 large carrot, peeled and sliced
225g Baby spinach, washed and drained
1 tablespoon olive or vegetable (rapeseed) oil
1/2 teaspoon ground nutmeg (optional)
Pinch ground black pepper
Utensils
Chopping board
Greaseproof paper
Kitchen scales
Knife
Large saucepan
Measuring jug
Sieve
Vegetable peeler
Wooden spoon
Method
Step 1
Peel the potatoes, then cut them in half lengthways and slice
Step 2
Peel the carrot then cut into coin shaped slices
Step 3
In a large saucepan, heat the oil before adding the sliced onions and frying on a low heat until softened
Step 4
Stir in the potatoes and carrot, then mix, turning over to coat the slices well in the oil
Step 5
Crumble the stock cube into a measuring jug and make up to 150ml with boiling water
Step 6
Add the stock to the pan and season with a teaspoon of ground pepper and mix well
Step 7
Cover the pan with a sheet of greaseproof paper, gently pressed down on the potatoes before placing the pan lid on top
Step 8
Turn the heat down to the lowest setting and cook for 20 minutes until the vegetables are tender
Step 9
Shake the pan every now and then to make sure the potatoes dont stick
Step 10
While the potatoes are cooking, wash and drain the baby spinach, removing as much water as possible
Step 11
Add the spinach to the pan, turn up the heat and cook until the spinach has wilted and any excess moisture has gone
Step 12
Stir again now and then while adding the ground nutmeg if using
Nutrition per serving portion (serves 4)
Each portion provides on average
Energy
996kj 238kcal 11.9%
Fat
5.62g 8%
Saturates
0.52g 3%
Carbohydrates
43.7g 44%
Sugars
5.32g 6%
Salt
1.19g 20%
Protein
6.52g Low
Fibre
5.82g High
Food Value
Calcium
Phosphorus
Potassium
Sodium
Chloride
Magnesium
Iron
Zinc
Copper
Manganese
Iodine
Selenium
Vitamin a
Vitamin c
Vitamin e
Thiamine
Riboflavin
Niacin
Pantothenic acid
Biotin
B6
Folate
Carbohydrates and Fibre
Potatoes are a good source of carbohydrates which are the bodies main source of energy. Especially when eaten with their skin, potatoes also contain good amounts of fibre, which helps keep our digestive systems healthy.
Protein and Minerals
Potatoes also contain good amounts of protein and important minerals such as iron and magnesium, which all help to keep our bodies functioning properly.
Send recipe to Google Home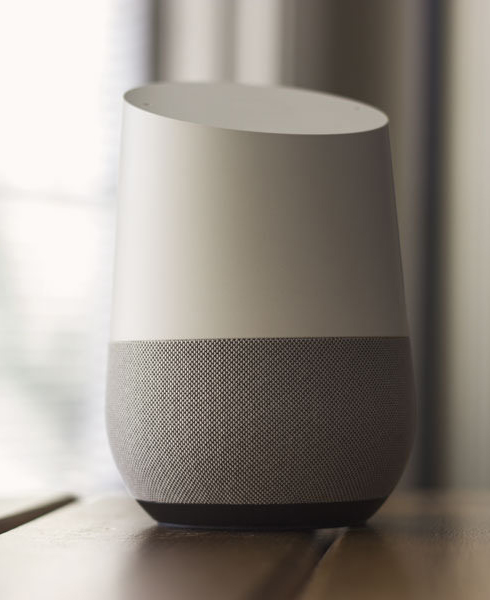 Google home internet of things.